19
Mar
Staff Picks: Lapsus Linguae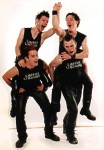 Lapsus Linguae emerged from the musical fringes of Scotland in the late 1990's like some Anthony Burgess-penned choir of uniformed, deranged, post-rehab, punk rock savants. Their perverse dedication to the forced inter-species copulation of classical and neo-classical eclecticism with hyper-technical, jarring, borderline-sociopathic alternative rock saw them drift gloriously away from the contemporary pack, further and further adrift on some experimental, post-modern voyage of discovery. Or perhaps more accurately, thrashing about in the choppy, remote waters of their self-imposed exile. Screaming supremely accomplished, cryptic, quasi-politcal poetry instead of calling for help. Biting the shark every bit as hard as the sharks bit them.
Having gradually drifted beyond the reach of most radars from 2006 that thrilling, terrifying blip blip blip reappeared in early 2014 with the release of "Ghosts": a small collection of songs lifted from amidst the sessions for their final album which, by the way, still hovers in the background of Glasgow's musical consciousness like a much-prophesized saviour/destroyer that may never return. Or may.
"Parade" is already familiar to followers of the band under its fuller title "Parade! (And that's an order)" from their debut EP. With the addition of perfectly pitched vocals on this new version it serves as a wonderful introduction to new listeners as well as a rewarding reworking for long-term stalkers. To accompany "Ghosts", founding member and apparent OCD sufferer-extraordinaire Penelope Collegefriend brought together this hideously effective montage of classic footage for the track in question. Using patterns, metaphors, icons and grim slices of reality to visually conure the beauty and tragedy of the song.
Switch the lights off and get the volume up for maximum impact. Then petition within an inch of your life for the full album's release.
[Chris Cusack]