06
Oct
Pleasance Sessions Market Place!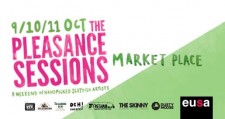 We are delighted to be taking part in our first label market! This Saturday Bloc+Music will be travelling to Edinburgh to sell lots of goods!
Other labels taking part will be:
A Modern Way // Gerry Loves Records // Olive Grove Records // Hobbes Music // Mini 50 Records // Soft Power Records // Lost Map Records // Fresh Air Radio // The Skinny // The Insider Festival // Soundhouse Organisation // Neu! Reekie! // Song, by Toad // Tabernacle Records // FoxBox Records // Make-that-a-Take // ITLAN // Folklore Tapes // GoldFlakeTapes // Good Grief Records // Hits the Fan // Secret Editions // Fuzzkill Records // Electric Fields // New Year Records // Chemikal Underground // Middle of Nowwhere recordings
We are in excellent company!
The event takes place in the Pleasance Courtyard, 60 Pleasance, EH8 9TJ Edinburgh, and there will also be live music curated by Gerry Loves Music. It kicks off at 12pm – 6pm so plenty of time to spend a lazy Sunday perusing the stalls and discovering new music!
The Facebook event can be found HERE
Thanks to Dusty Mosse for having us!