09
Jun
The Van T's Release Blood Orange!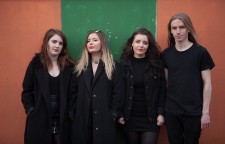 "…music that deserves to be played at ear-threatening decibels to as many people as possible." – Noisey
"…a surf rock band, but only if your idea of surfing involves getting pummeled by a giant wave…" – Consequence of Sound
"… the musical equivalent of a John Hughes movie." – Clash
With the buzz around them growing with each release, The Van T's have hit the mark again with the release of their new video for single Blood Orange, which is out on 10th June 2016. The track is taken from their forthcoming EP A Coming Of Age released on 1st July 2016 via Bloc+Music.
You can purchase 'Blood Orange' via iTunes or stream via Spotify NOW!
Premiering on Noisey, the video sees the band go full 90's inspired MTV2 with grainy, filtered visuals edited sharply, fitting the high octane nature of the song perfectly. Watch the video below!
Blood Orange premiered on Huw Stephens BBC Introducing show on Wednesday 25th May and captures the bands characteristics superbly as electrifying guitar howls and echoes from the speakers, bridged beautifully by the twin sisters duel vocals, all neatly harnessed by the simple yet effective interplay between drums and bass. Stream the track now below! 
The single follows the release of EP track '35mm' which premiered on Consequence of Sound last month and is also available to stream on the band's Soundcloud page.
Having begun writing songs at just seventeen years old, twin sisters Hannah (guitar, vocals) and Chloe Van Thompson (guitar, vocals) decided to start a band shortly after. Initially playing shows in and around Scotland as a duo, the twins recruited Joanne Forbes (bass) and Shaun Hood (drums) in an attempt to add more layers to an already impressive sound. As a result The Van T's were born, complete with a sunny 50's jukebox style sound and a twist of cathartic 90's grunge thrown in for good measure, captivating both fans and music aficionados alike.
Taking inspiration from band's such as The B-52's, Veruca Salt, Smashing Pumpkins and Le Butcherettes, The Van T's have created a contemporary, scuzz-filled record that also has an endearing raw quality pouring out from every note.
Despite the band being in its infancy, The Van T's have already appeared at T in the Park, Wickerman, Electric Fields, Tenement Trail and Strange Behaviours. This has seen them pick up support from Noisey, , Clash, The Scotsman, Beat Surrender, Backseat Mafia, BBC Radio 1, BBC Radio Scotland, Amazing Radio and XFM Scotland. 2016 looks like it will be another hectic year for The Van T's having already made appearances at Wide Days, Stag & Dagger and Brew at the Bog. Having supported both Honeyblood and Catholic Action they also recently played their first London show in support of HAWK before playing with the mighty Yuck in Glasgow and Edinburgh. The four piece will be playing a launch show for single Blood Orange on Friday 10th June at Broadcast in Glasgow, with tickets available here, as well as a number of shows and festivals over the summer:
16th July – St Lukes All-Dayer – Glasgow
16th July – King Tut's Summer Nights – Glasgow
25th August – The List Art Festival – Edinburgh
26th August – Electric Fields Festival
10th September – Edinburgh University Freshers Night
8th October – Twisterella Festival, Middlesborough
Blood Orange is out on 10th June and is taken from the EP A Coming of Age by The Van T's, due for release on 1st July 2016 via Bloc+Music.